Why Your Child's First Dental Visit is So Important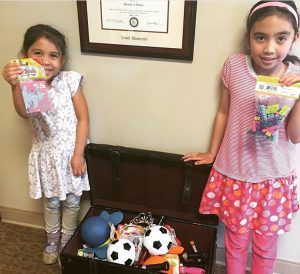 "Amazing experience with my anxious 7 year old son. Friendly and accommodating staff and a superbly clean office. Awesome list of "comfort" items helped ease my sons fears (he thinks watching TV while getting dental work done is the best thing ever!) This is the third dentist we have been to with him, and as the saying goes, third time's the charm." – Kelly H. (GOOGLE)
Believe it or not, your child's first experience with a dental office can shape their feelings about dental visits for a lifetime. With the number one reason cited for not seeing a dentist regularly being "a bad previous experience," a good first impression is critical.
Even the most advanced techniques and skilled dental professionals will have a hard time erasing a bad memory, which is why it is so important to start with a positive experience.
At Northstar Family Dental, our team recognizes the implications of a child's first few visits. Which is why we take a thoughtful and purposeful approach to ensure your little one associates the dentist office with a safe, happy and friendly environment. 
Each child is greeted by one of our friendly team members and shown around the office – giving them time to relax and ask questions. Their tour includes a visit to the prize box which they will be able to return to pick a prize after they've completed their checkup.
Once in the room, they get their choice of kid-favorite television channel to watch during their checkup and cleaning. Our hygienists have perfected the art of the kid-friendly cleaning through the use of vivid communication that children can understand and relate to. We use "magical paint" (toothpaste), of their flavor choice, to get rid of the "sugar bugs." The kids are also encouraged to help count their teeth and check to make sure they are healthy and clean.
Keeping the kids involved and letting them help make decisions, prevents them from feeling out of control of the situation leading to nervousness and anxiety, while also keeping them distracted from the fact that they're getting a checkup!
And good oral health care habits are not to go unrewarded. In addition to picking from the prize box – when a child is cavity free, they join our No Cavity Club – which enters them into a drawing for exciting prizes like Columbus Clippers tickets, Columbus Zoo memberships, Toys R Us gift cards and more!
However, even more important than all the fun offered during a Northstar Family Dental visit; if a child is still feeling unsure and resists the checkup – we will never force any treatment. Pressuring a child could leave them feeling even more anxious and stimulate negative feelings toward future appointments. If the only thing we do during an initial visit is a quick visual exam and pep talk about at-home care – that is okay! Even a nervous child will warm up to the idea of an exam as long as they are treated in a manner that builds trust.
Tips on Caring for Your Child's Teeth at Home
Nutrition:
Be mindful of snack choices. Try to avoid foods that are going to stick to your child's teeth. (Think gummy snacks, candy, jelly and jams)
 Make sure the kiddos are drinking plenty of water. When possible, try to avoid juices, soda and sports drinks which are high in sugar and acidity.
Get your greens! It's probably no surprise to see foods like broccoli and leafy greens included on a list of what your child should be consuming. They're full of vitamins and minerals while being low in calories. They are also high in calcium, which helps in building your child's enamel.
Try crunchy, high fiber foods like apples, celery and carrots. While many fruits get a bad wrap because of their sugar content, apples are relatively low in sugar, but high in fiber and help scrub away plaque.
Brushing:
Parents should be helping their kids brush until they are able to do it themselves well. Most parents are surprised to learn that it is not until age nine or 10 that a child knows how to properly and effectively brush by themselves! It is essential to check their brushing to ensure everything is getting cleaned to prevent decay.
Get them excited about oral health! In addition to informative children's books, there are several digital resources available to parents. One of our favorite websites is 2MIN2X, which features fun videos, brushing games, printable checklists, etc. Check it out at the link below!
We would love to see your little one in our office for their first visit. We promise to provide a memorable experience that will be sure to get them excited about oral health and future visits to the dentists!
Cassie Wise, RDH, Contributing Editor