About Us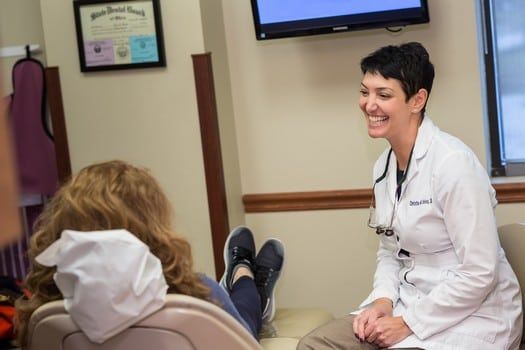 At Northstar Family Dental, we aren't just in the business of teeth. We're in the business of people.
We feel strongly about building meaningful, lasting relationships with our patients which extends beyond the every sixth-month visit.
The Northstar Experience Promise.
We promise that with every encounter with our office you will be treated warmly and respectfully. We promise to spare no effort to make you feel comfortable and provide the best dental visits you've ever experienced.
Patient Involvement and Education.
In some offices, the patient is more of a spectator rather than an active participant in treatment decisions. Our team believes that your involvement and education is paramount. We will spend the time you need to explain all of your options in depth and involve you in the decision-making process. When you know what we are doing and why we are doing it, you can make better decisions resulting in the best outcome.
Advanced Technology and Spa-Quality Amenities.
Our offices are equipped with the very latest technology and state-of-the-art equipment to offer you comfort and clinical excellence.
In the effort to offer the most relaxing experience possible, we offer a Comfort Menu which includes, but is not limited to; TVs in every room with HULU and Netflix, cozy blankets, neck pillows, essential oil infused warm towels, noise-canceling headphones, complimentary paraffin hand dips, beverage bar, wifi and much more.
…You may just forget you're at the dentist office.
Sedation Dentistry. 
Do you feel anxious about even a routine cleaning? Have you put off necessary treatments due to fear and anxiety? We understand. And we're here to help. As part of our commitment to providing the most comfortable environment and best care options for you, we're one of the very few dental practices who offer IV sedation within the convenience and comfort of our own office.
IV sedation provides a higher level of sedation than nitrous oxide and offers more predictable results than oral medication, all while maintaining your consciousness—allowing you to completely relax and still interact as necessary.
Find additional information on IV sedation on the TREATMENTS tab of our website.
We're Committed to Continuing Education.
At Northstar Family Dental, we have an "always learning" philosophy. As such, our entire team is committed to surpassing the required amount of continuing education each year to ensure we're providing you with the most up-to-date and progressive treatment options and most knowledgeable clinical team.
Best Team in Town. 
We pride ourselves on having the most committed, compassionate, respected and knowledgeable team in central Ohio!
We are Invested in our Community.
We believe in giving back. Each year we donate a large portion of our proceeds and our time to charitable organizations, local schools, community groups, and our own charitable events like Dentistry from the Heart and food and toy drives. Dr. Kulesa has been recognized as one of Columbus' 20 Outstanding Women, as a Sunny 95 Hometown Hero and with a SMART Business award for her outstanding contributions in the community.