Why is My Tooth Sensitive?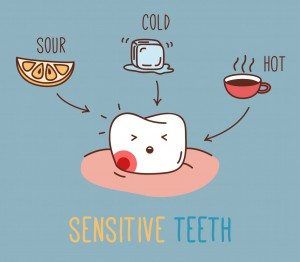 Tooth sensitivity, tooth pain, biting pain, gum pain — they are all uncomfortable, annoying, and scary occurrences…  A sensation in your tooth can be cause by a multitude of things, ranging from gum recession and root exposure, to sinus pressure, to tooth decay and infection.
Causes of Tooth Sensitivity:
1. "Idiopathic Hypersensitivity"
A tooth may be sensitive for a short time with no cause, no treatment, and it will go away!  Good news!
2. Sinus Pressure
May cause teeth to feel uncomfortable and achy/painful.  The sensation may become more apparent when walking up stairs, running, or with exercise.  If this is the suspected cause, we may refer you to you Primary Care Physician for a confirmed diagnosis and treatment.
3. Gum Recession
Caused (usually) by brushing too hard or using a medium/hard bristled toothbrush, gum recession can also be intensified by tooth grinding and/or clenching.  Many treatments are available, depending on the severity of this condition.
4. Tooth Grinding (Bruxism), Tooth Clenching Habit
In addition to causing damage to the structure of your teeth, tooth grinding and clenching make teeth hypersensitive due to the forces and pressures exerted.  This habit can also cause loss of
enamel near the gumline of teeth.  Treatment usually includes an occlusal (night) guard, and possibly treatment to cover areas of enamel loss.
5. Missing/Loose Fillings
The inner surface of your tooth is exposed and we must cover it!
6. Cavities
7. Cracked Teeth
Cracked teeth can lead to temperature sensitivity, or sensitivity when chewing.  However, recent research shows that 70% of cracked teeth cause no symptoms!  Cracked teeth need treated ASAP before the crack progresses.
8. Abscess/Infected Tooth
Usually causes spontaneous pain, sometimes swelling, and/or pain that comes and goes over time.  Come see us immediately!
9. Gum Disease
This can cause root exposure, but also active infection of your gums can make both your gums and teeth painful.
---
Whatever the cause of your sensitive teeth, we can help.  We are expertly trained in the diagnosis and management of tooth sensitivity (in addition to a lot of other things!), and we would love to alleviate your annoying tooth discomfort! 🙂
Dr. B