Is Botox, Juvederm or Radiesse right for you?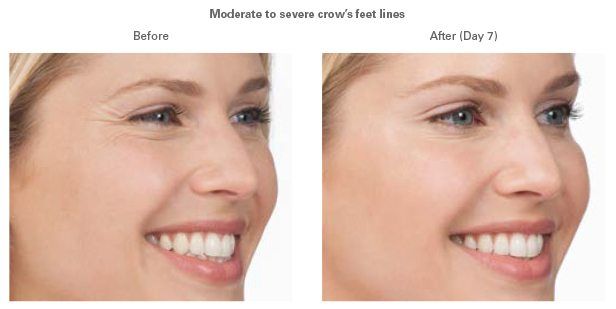 Are you unhappy with the appearance of fine lines and wrinkles?
Consider BOTOX® Cosmetic, the only FDA approved treatment to temporarily improve both moderate to severe frown lines between the brows and fine lines around the eyes (commonly referred to as "crows feet") in adults. This simple, yet effective, treatment typically takes only about 10 minutes to complete in the comfort and privacy of our office – and has been proven to last up to four months.
Do you suffer from chronic migraines or teeth grinding?
BOTOX® is the first and only FDA-approved preventive treatment for chronic migraines. Unlike acute treatments, which are used to treat a headache or migraine once it's already begun, BOTOX® prevents headaches and migraines before they even start.
What is JUVÉDERM®?
JUVÉDERM®  is a non-surgical treatment to lift and contour the cheek area, smooth wrinkles and lines, and even enhance your lips. Over time, the cheeks flatten and lips lose fullness. This is caused by a natural loss of volume. JUVÉDERM® combats these signs of aging by adding subtle and smooth volume beneath the skin's surface to lift and contour cheeks and lips.  Results are not only instantaneous – the outcome looks natural and is long lasting. In fact, JUVÉDERM® is the only filler proven to last up to two years in the cheek area.
Our newest product, JUVÉDERM® Volbella XC is the first and only FDA approved filler proven to increase lip fullness and soften the appearance of vertical lip lines for up to one year.
JUVÉDERM® also contains lidocaine to help reduce discomfort during the treatment. With the amazing benefits, it is no surprise that JUVÉDERM® is the #1 selling collection of filler in the U.S.
What is RADIESSE®?
RADIESSE® is a dermal filler that is used for smoothing moderate to severe facial wrinkles and folds, such as nasolabial folds (the creases that extend from the corner of your nose to the corner of your mouth) and for correcting volume loss in the back of the hands.  The filler works immediately to add instant volume under the skin. Over time, the benefits of RADIESSE® continue by stimulating your body's own natural collagen. Results have been shown to last a year or longer in many patients; making the treatment results both immediate and long lasting.
What will I look like with BOTOX®,  JUVÉDERM® or RADIESSE® treatment?
Still not convinced? Download the Treatment Visualizer to see how amazing the results could look on YOU! https://itunes.apple.com/us/app/juvederm-treatment-visualizer/id501612171?mt=8
We always offer complimentary consultations to ensure that you confidently choose the best treatment option for your individual needs. Let the experts at Northstar Family Dental help you discover the results that everyone will notice, but no one will know.
Jessica Bowersock, Certified Dental Assistant, Certified Advanced Esthetician
Contributing Editor