Invisalign vs. other clear aligners
Have you ever wondered what the difference is between
Invisalign and other clear aligners: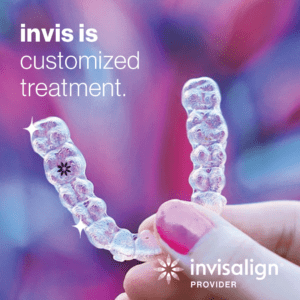 Tried & Trusted 
Out of all the other brands, Invisalign is a tried and trusted product. Besides being a trusted product, it can provide a predictable and accurate result because of the 3D ClinCheck Software.
With this software, all treatments can be accurately planned out beforehand, which means that the best possible solutions for your circumstance will be mapped out. Therefore, guesswork is eliminated, and you can see your teeth move from where they are to where they will be at the end of the treatment.
SmartTrack patented thin material
Invisalign aligners are created from a patented thin material that enables the aligners to stay rigid longer than the other clear aligners.
SmartTrack® is the name of the patented material that makes Invisalign unique in its design. With this material, your treatment becomes better since it enhances predictability because they retain the design while moving your teeth.
Also, the plastic is BPS and BPA-free and also does not contain latex or gluten. With SmartTrack, you can get safe and comfortable fitting aligners as compared to the other aligner materials.
Other aligners use thinner materials that may seem more invisible, but they are less sturdy than Invisalign aligners. The other aligners tend to break easily, and this means that your treatment will be interrupted. Other aligners are created from the plastic that Invisalign used to use years ago.
Unique Traits
Also, Invisalign aligners have unique traits that other aligners miss. One of the notable things they don't have is the active component, such as attachments that are used to control the results.
They are tiny tooth-colored attachments placed on your teeth to give the aligners something to push on. These attachments make complex movements possible.
Even though other clear aligners can be used in the same way as Invisalign, they are not identical.
This is why we only use Invisalign at Northstar Family Dental.