Can you benefit from dental Botox?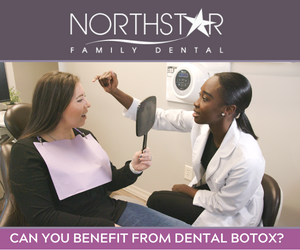 Due to its minimally invasive nature, the use of Botox in dentistry is expanding to treat dental conditions like high lip lines, Temporomandibular Joint Disorder, Bruxism, and more.
High Lip Line:
Patients with a high lip line can use Botox to help relax lip muscles and achieve a lower, more aesthetically-pleasing smile line. This is a popular option because the entire process isn't very invasive, and we can provide treatment on the same day.
TMJ:
Patients dealing with Temporomandibular Joint Disorder can also benefit from Botox injections. TMJ disorders can cause severe pain from hyperactivity of the muscles, and treatment options have been limited in the past. Now, Botox can simply relax these muscles for quick and efficient pain relief.
Bruxism (grinding of teeth):
Bruxism can also be minimized with Botox treatments by reducing the force of the muscular contractions involved. These injections can make a useful adjunct therapy to night guard appliances.
Schedule a consultation today to see if you can benefit from Dental Botox! Call us 614-891-4242