Thinking About Having a Baby, or Recently Pregnant?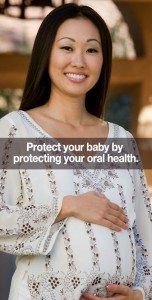 When you're planning a family, visiting the dentist may not be at the top of your priority list.  However, if you're thinking about having a baby or are recently pregnant, a dental cleaning and check-up is best done sooner rather than later.
Good oral health is a component of good overall health, both for you and for your baby…
And the good news is, dental care is safe and essential during pregnancy.
Below are answers to common questions about dental treatment and pregnancy, as well as oral care tips for pregnant women.
Don't forget to come see us during this crazy, chaotic time!
---
Regular Visits to Monitor Pregnancy Gingivitis
Increase in hormones during pregnancy increases blood flow to the gums, which can cause swelling and tenderness.  It can also cause "pregnancy gingivitis," Read the rest of this entry »