Free Day of Dentistry for Veterans and Active Duty Military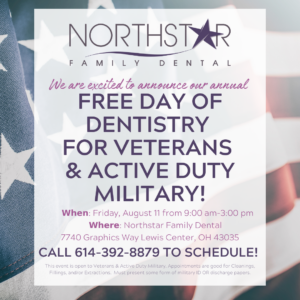 𝗪𝗲 𝗮𝗿𝗲 𝗲𝘅𝗰𝗶𝘁𝗲𝗱 𝘁𝗼 𝗮𝗻𝗻𝗼𝘂𝗻𝗰𝗲 𝗼𝘂𝗿 𝗮𝗻𝗻𝘂𝗮𝗹
𝗙𝗥𝗘𝗘 𝗗𝗮𝘆 𝗼𝗳 𝗗𝗲𝗻𝘁𝗶𝘀𝘁𝗿𝘆 𝗳𝗼𝗿 𝗩𝗲𝘁𝗲𝗿𝗮𝗻𝘀 & 𝗔𝗰𝘁𝗶𝘃𝗲 𝗗𝘂𝘁𝘆 𝗠𝗶𝗹𝗶𝘁𝗮𝗿𝘆!
𝗪𝗵𝗲𝗻: Friday, August 11th from 9:00 am-3:00 pm
𝗪𝗵𝗲𝗿𝗲: Northstar Family Dental at our Lewis Center location only: 7740 Graphics Way Lewis Center, OH 43035
𝗖𝗮𝗹𝗹 𝟲𝟭𝟰-𝟯𝟵𝟮-𝟴𝟴𝟳𝟵 𝘁𝗼 𝘀𝗰𝗵𝗲𝗱𝘂𝗹𝗲 your appointment.
This event is open to Veterans & Active Duty Military. Appointments are good for Cleanings, Fillings, and/or Extractions. Must present some form of military ID OR discharge papers. Appointments must be scheduled!